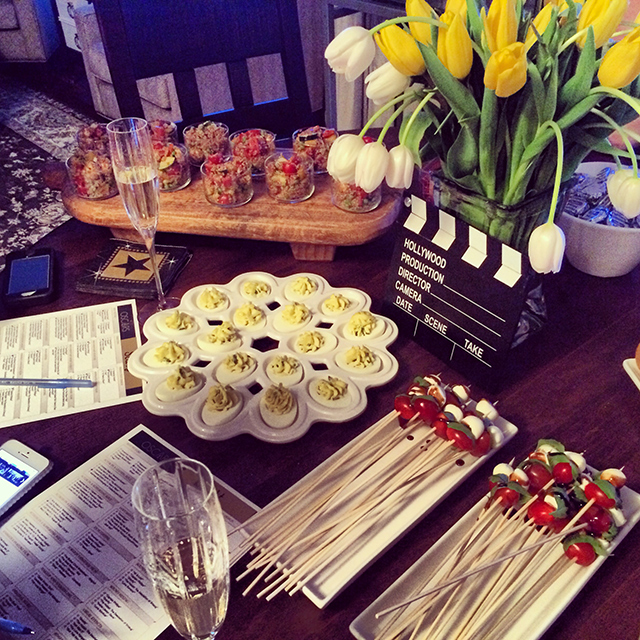 In years past I would have spent this day hustling around the city doing last minute tasks for my Annual Oscar Party.  Unfortunately, this year I've had to put the event on hold, a home renovation, unpacked boxes and being eight months pregnant means I have to sit this year out of the hostess seat.  Don't fret my friends, this is strictly a one year hiatus and I plan and making next year the best yet.  I just adore hosting this event, and while I may even shed a little tear or two on the night of (I'm pregnant people, it doesn't take much these days), I wanted to share all of my fun tips and tricks with all of you, and reminisce on years past.
The first thing I do after I get invites sent and RSVP's back is to print off the ballot sheets.  I always have my guests fill them out upon arrival and we spend the evening tallying our scores.  There's some sort of prize for the winner, in the past it's been makeup palettes from Sephora, jewellery from J.Crew or tea from David's Tea.  I love spoiling my guests and it makes the game that much more competitive knowing there are treasures to be won.  You can download your own ballots from Vanity Fair HERE, Pop Sugar HERE, or MovieFone HERE.  The very first Oscar party I hosted while still living in Vancouver included a game of Oscar Bingo that I had found online and printed out.  I was thrilled to see that Cupcakes and Cashmere created her own version of Oscar Bingo and has a link to download it for you and your guests!
Whatever it is you plan on doing for the evening, whether it be hosting or attending a party, watching at home with friends or family or yourself, I hope you enjoy the evening by taking in the fabulous fashion and the often cringe-worthy hosting efforts.  You can view my previous Oscar night recaps that I covered on the blog from the Oscars 2013 and Oscars 2014, and below are all my tips and tricks I'm sharing with you.
My favourite way to welcome my guests is to let them know that they're VIP right from the start.  The red carpet has always set the tone, and I love staying on theme for this night.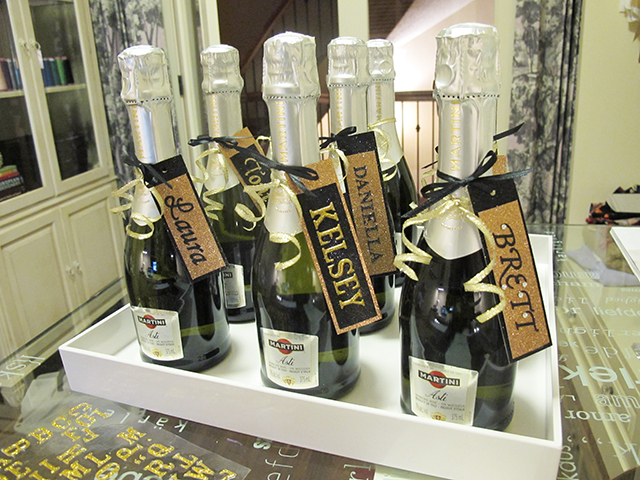 I adore sending party goers away with a little take-home, and what makes more sense than a mini bottle of bubbly?  Extra details like glitzy name tags always helps with the wow-factor of the evening.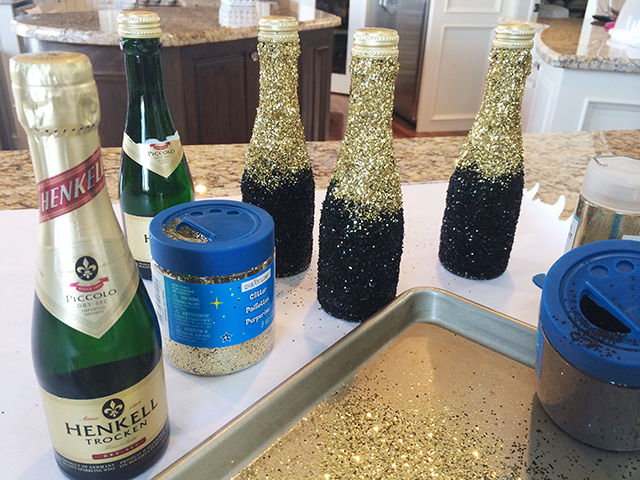 One year I decided to up the anti and did a little DIY at home.  I sprayed and sparkled each mini take-home bottle of bubbly for added glitz-factor.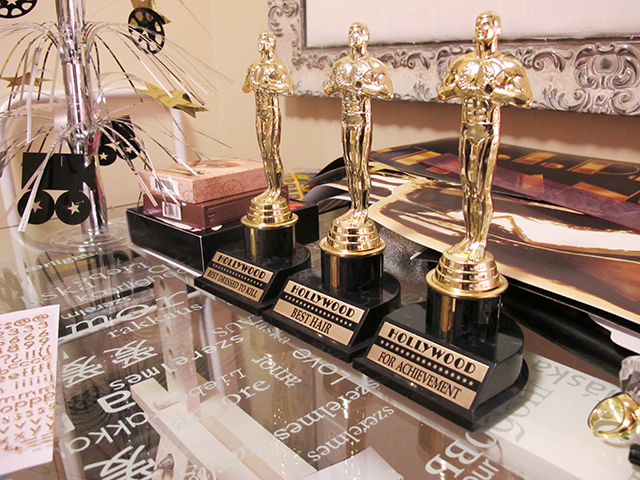 For a couple of years I ordered trophies for the winners of each category.  I give out prizes for best dressed, best hair, and overall achievement for getting the most correct on the ballot.  Prizes for best dressed are voted on by all the guests, which has been a difficult decision every year, my gals really bring it.
This was a picture from the first year I hosted the Oscars party in Calgary.  We had two Oscar statues show up along with a gaggle of gorgeous women.  The first year was so successful I knew it would be an ongoing event.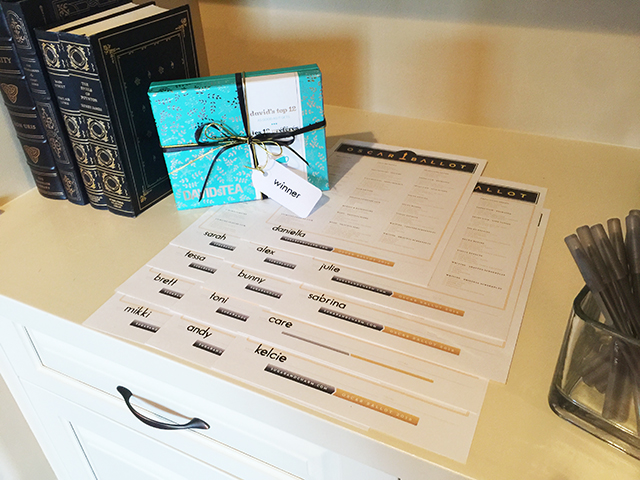 First things first, my guests know to grab a ballot when they walk in and get it filled out while we take in the Red Carpet arrivals.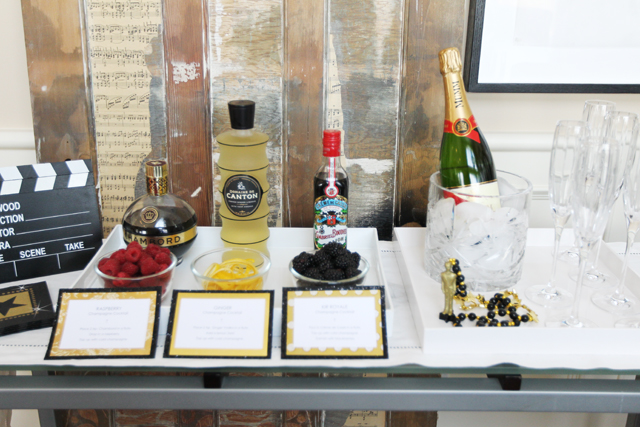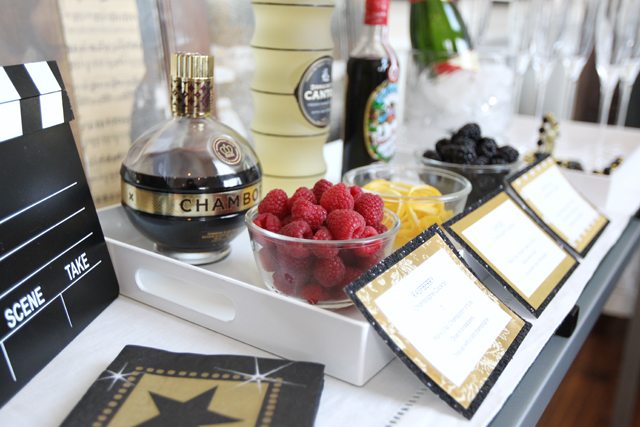 While some years I've done straight Champagne, one year I set up a Champagne Bar, complete with recipes and everything you needed to garnish your beverage.  The best part was making sure you tried each flavour…twice.  Another year I altered this idea slightly and did a martini bar with three different flavoured martinis, a touch harder to try each favour more than once.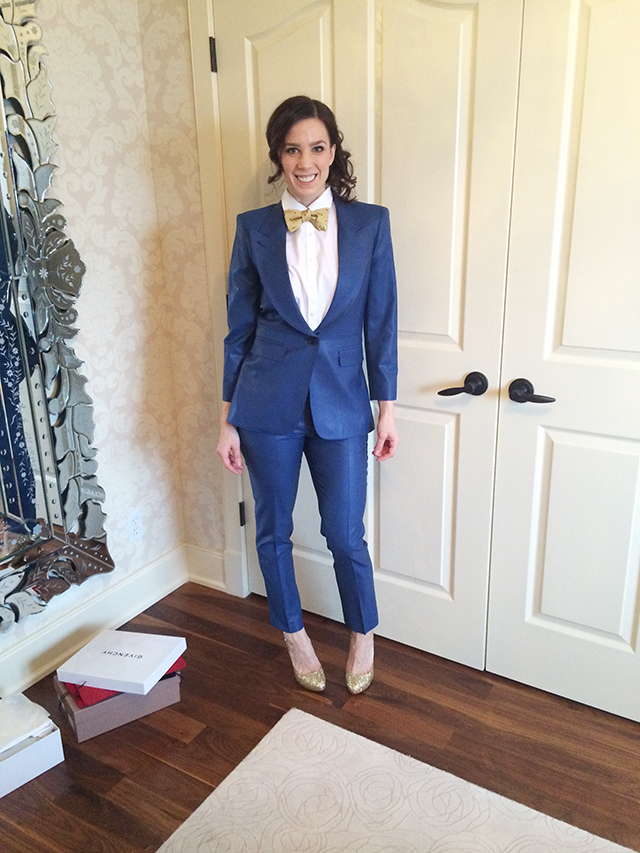 The year Ellen hosted the Oscars I knew I needed to take the cue from her and as hostess of my own party I suited up, literally.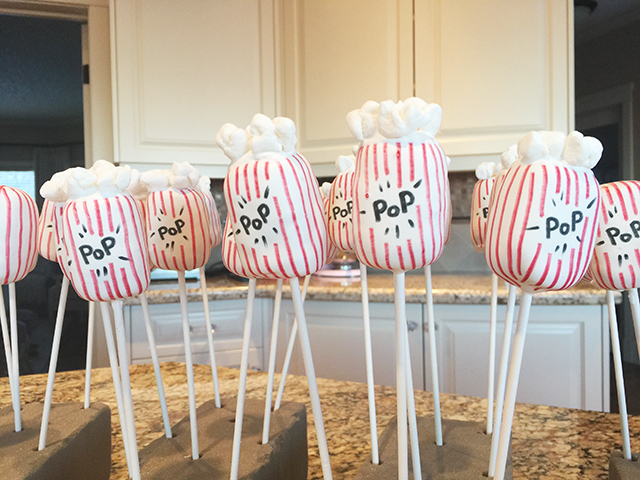 The majority of the years I've made cake pops, they're great to send home with guests and an easy and delicious treat to indulge on whilst keeping up with the awards.  These little bags of 'popcorn' were an absolute hit.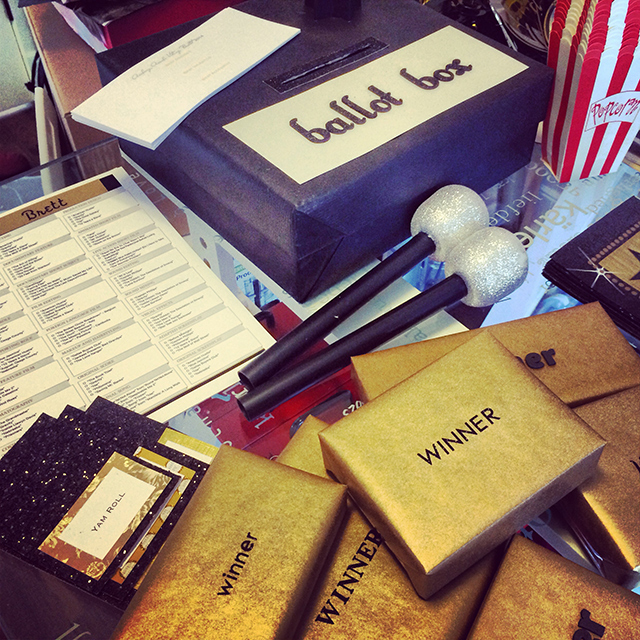 Printing off the ballots, wrapping the prizes and preparing the voting station are all apart of the prep work I do pre-party.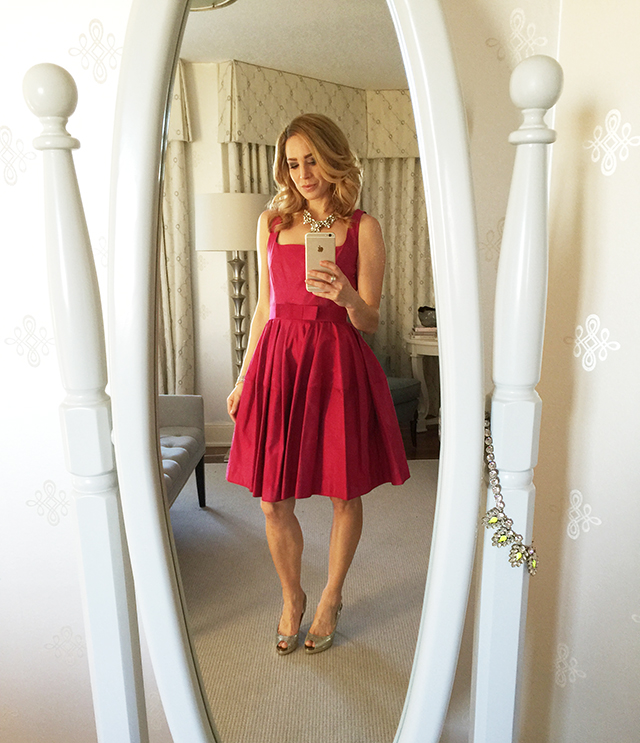 Most years I get to get glammed up, and for 2015 it was all about Lanvin and Jimmy Choo.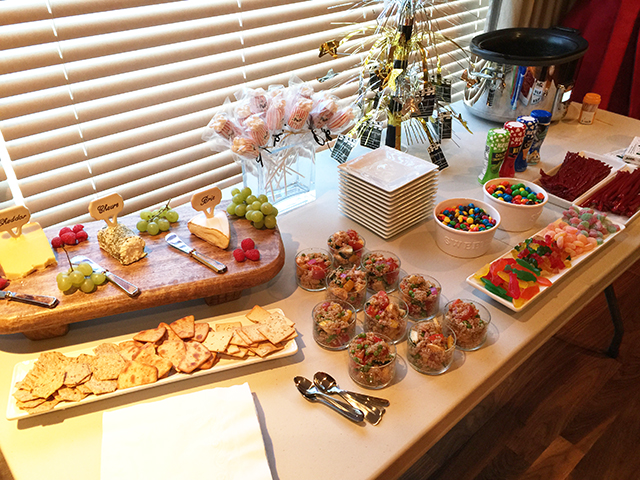 Some years are more low-key than others, but I always always make sure to include movie theatre favourites such as popcorn, Twizzlers, and Junior Mints for my guests to snack on.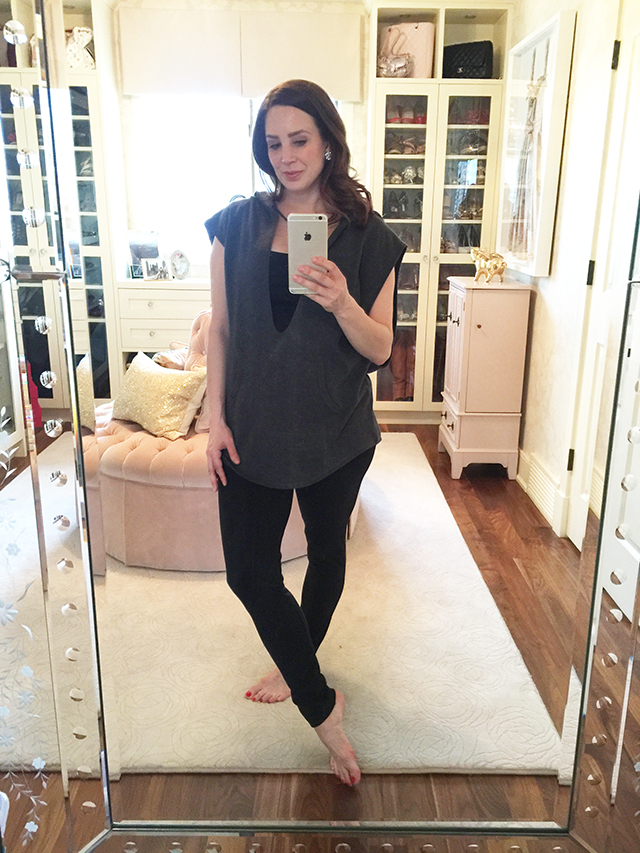 Last year I was only two months post-baby, and for a while I thought about cancelling the event.  Instead, I made the executive decision to change up the dress code.  Instead of getting glam and having cheese platters and hors d'oeuvres I stated on the invites that it was strictly pyjamas and pizza.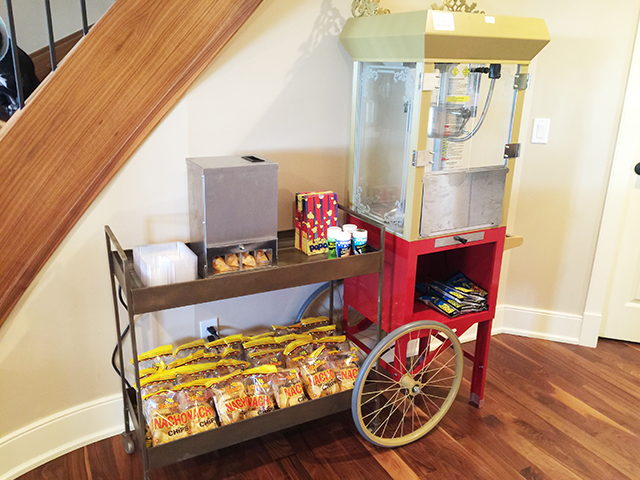 Last year we also introduced a nacho bar to the mix, because what goes better with pizza, pyjamas and watching the Oscars than a delicious side of nachos?  While this was the initial set up I also had jars of salsa, sour cream, jalapeños, onions and tomatoes to add on.